DINING ROOM OPEN
(512) 394-5550
Please note we are Walk-in only, we are not accepting reservations at this time
HOURS
Mon-Thu : 11am- 9pm
Fri-Sat : 11am-10pm
Sun : 12-9pm
Menu
🥬 = vegetarian or vegan options 🌶 = spicy
Appetizers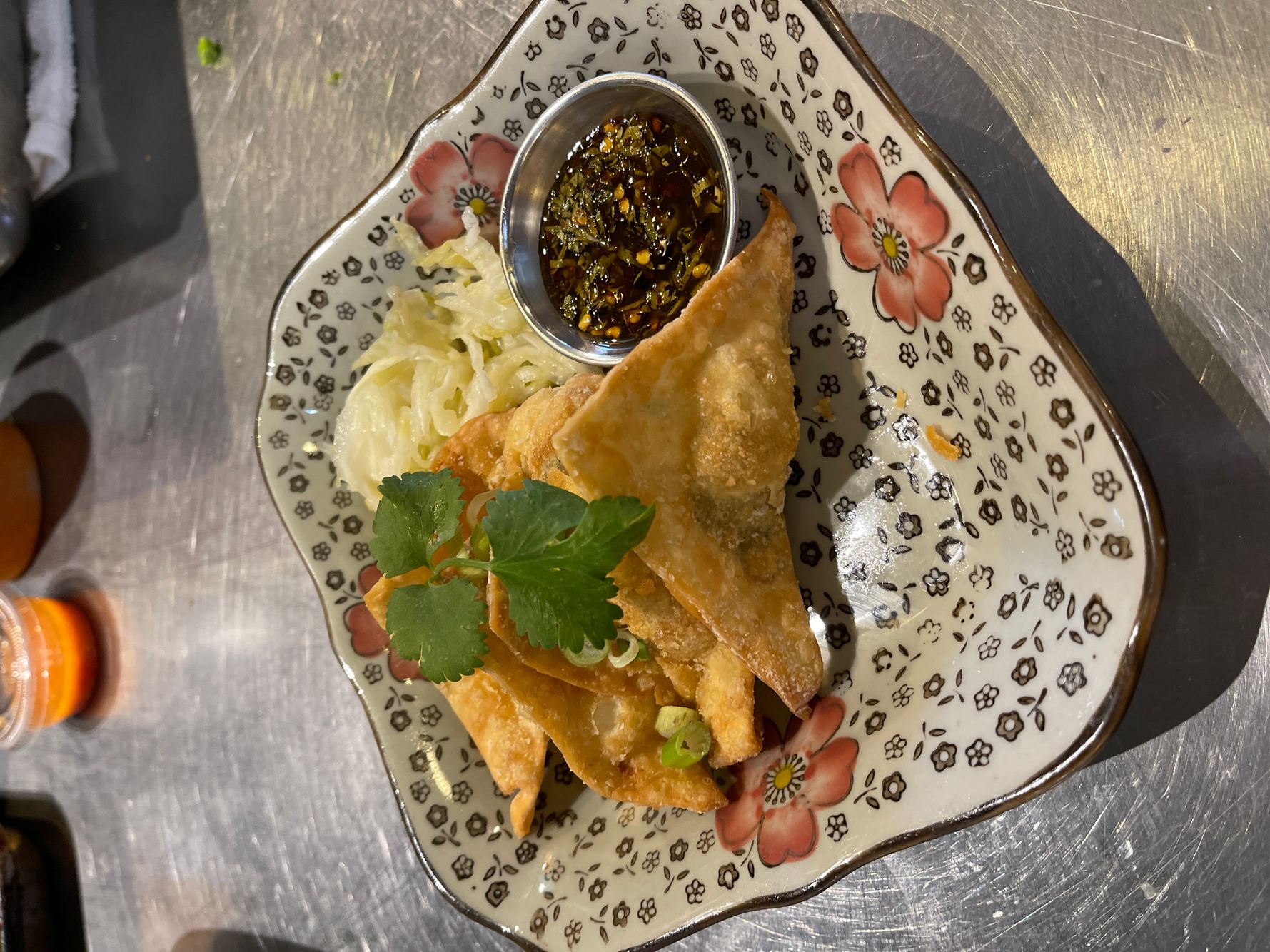 Wontons
Fried pork wontons, pickled cabbage, boom sauce
$8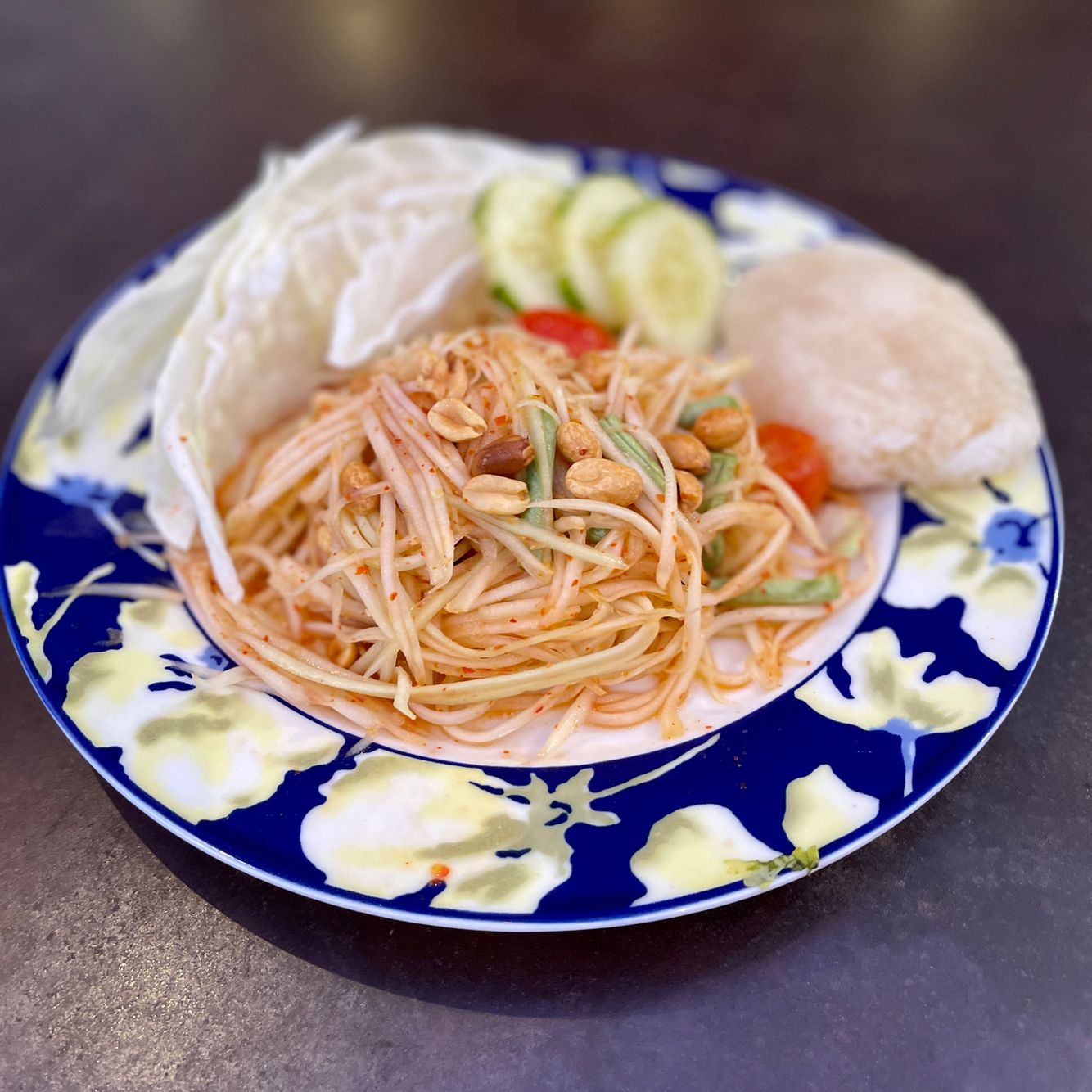 Papaya
🌶 Green papaya, thai chili, green bean, peanuts, grape tomato
$10 add sticky rice $3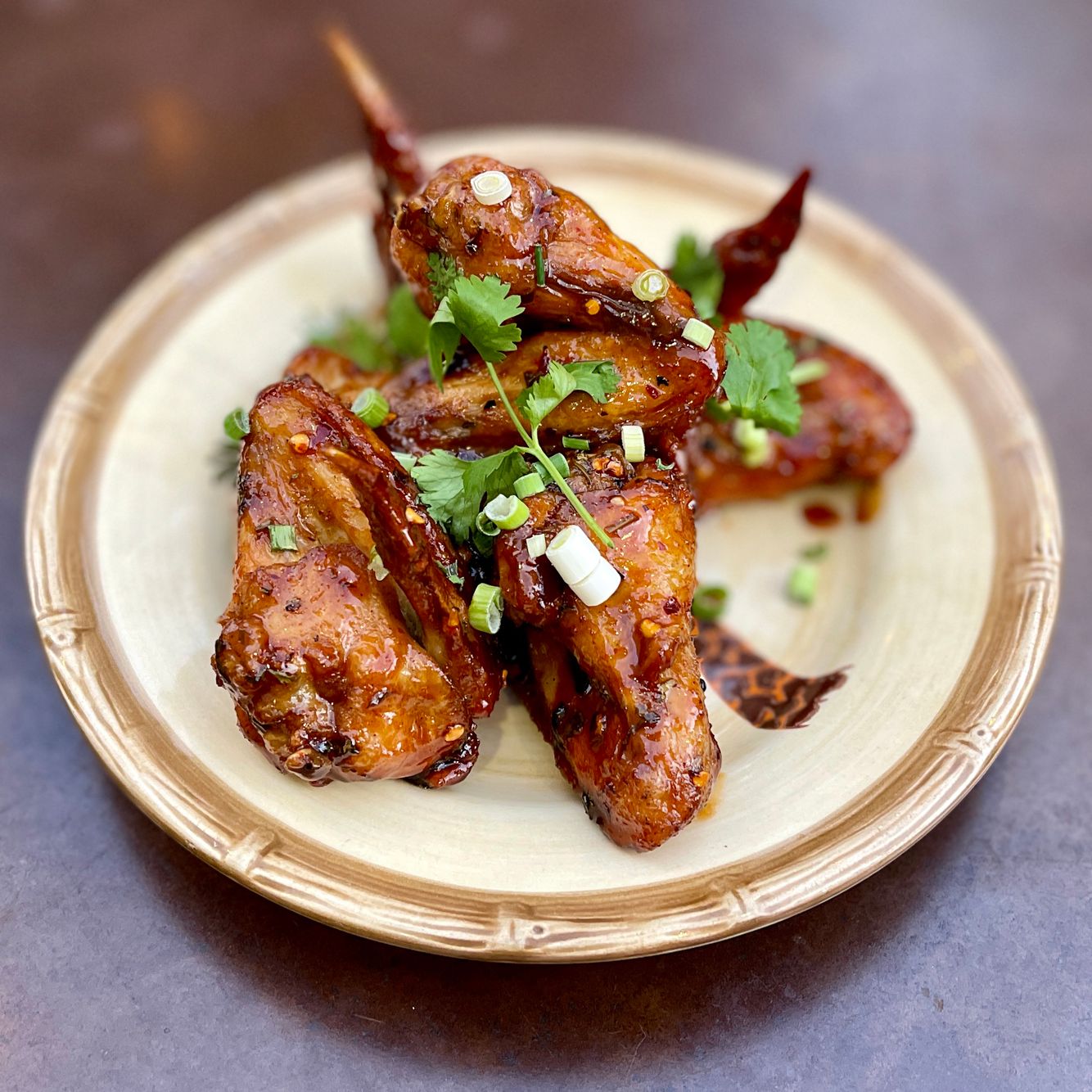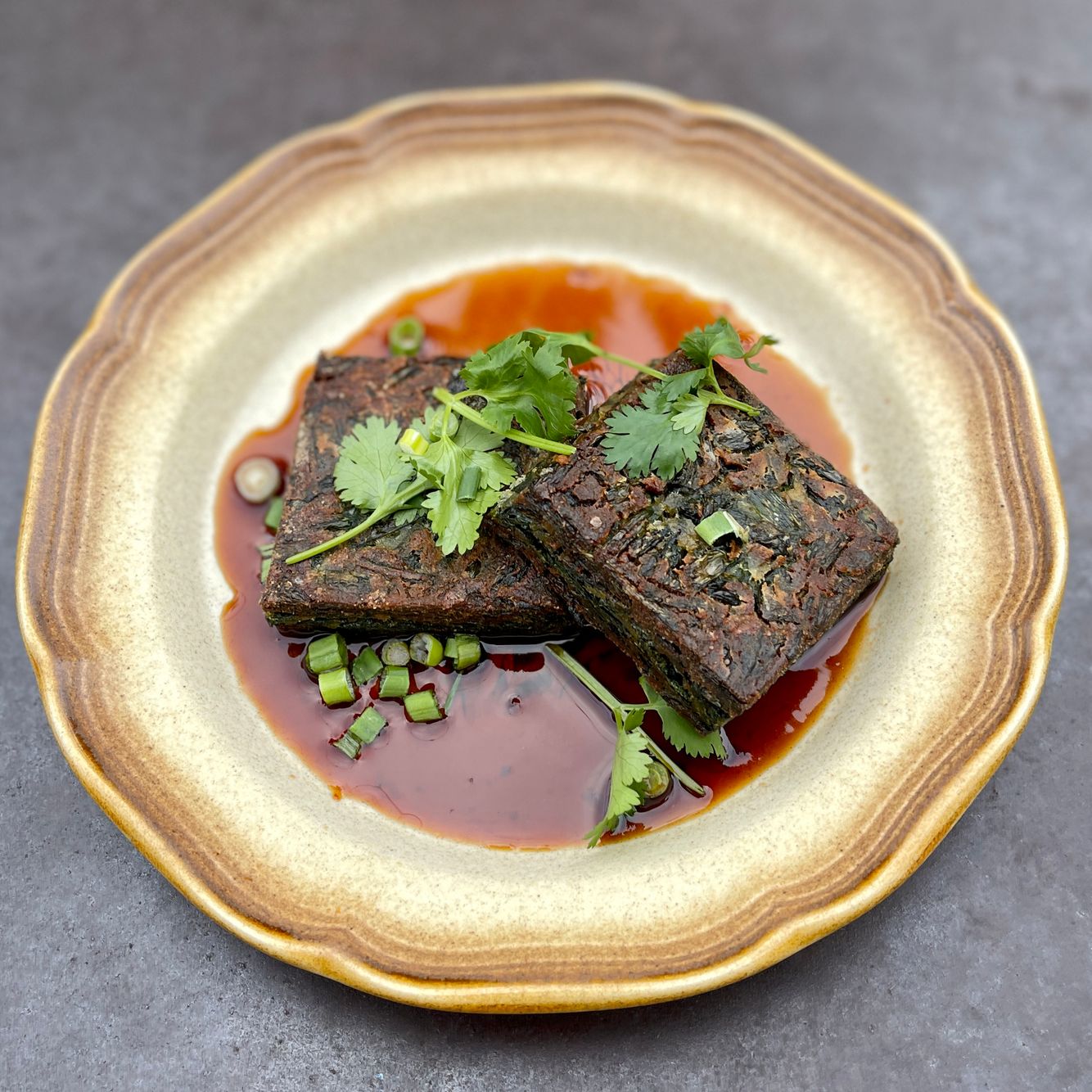 Chive Cake
🥬 Steamed and pan seared chive cake with serrano nam jim
$9
Clay Pot
🥬 Bean thread noodles cooked in clay pot, prawns, pork, egg, yellow onion, shiitake mushrooms, celery $20 - available dine in only.
Larb
🌶 ground pork cooked with kaffir lime, thai chili, toasted rice powder, mint, red onion, served with cabbage, cucumber $16 - add sticky rice $3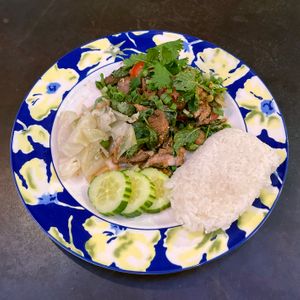 Waterfall Pork
🌶 Pork jowl, cherry tomato, mint. red onion, cilantro, & tiger cry, sticky rice
$18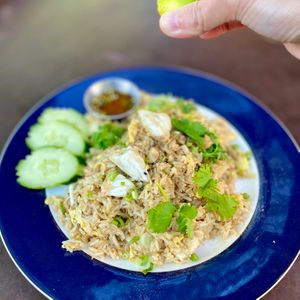 Crab Rice
Crab fried rice, cucumber, cilantro, green onion, nam phrik nam plaa
$19
Green Curry
🥬 House made green curry, chinese eggplant, red bell pepper, bamboo shoots, choice of chicken thigh or silken tofu, jasmine rice
$16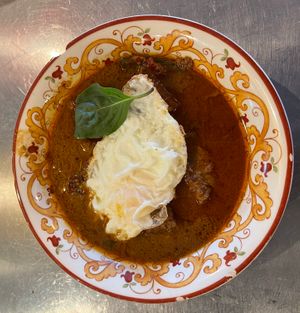 Panang
🌶 House made, slow roasted short rib panang curry, jasmine rice
$19
Add fried egg + $1.50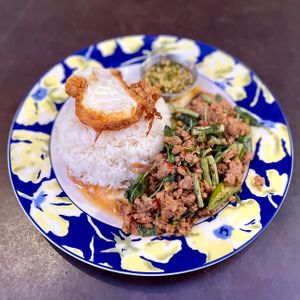 Pad Ka Prow
🌶 Ground pork, thai basil, serrano, long beans, garlic, thai chilis- with jasmine rice topped with a fried egg & nam phrik nam plaa
$16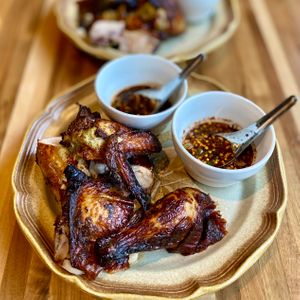 Roasted Chicken
Chef Thai's Roasted Half Chicken with boom sauce and nam jim jaew
(limited availability) $25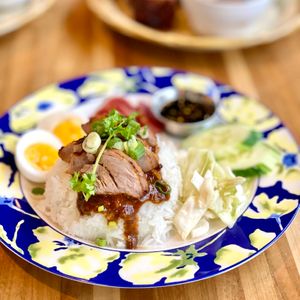 Khao Moo Dang
Thai BBQ pork, Chinese sausage, pork gravy, soft boiled egg, cucumber, jasmine rice, soy nam jim
$16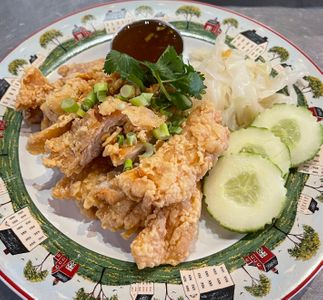 Thai Kun Fried Chicken
Fried chicken thigh, cucumber, boom sauce, jasmine rice
$16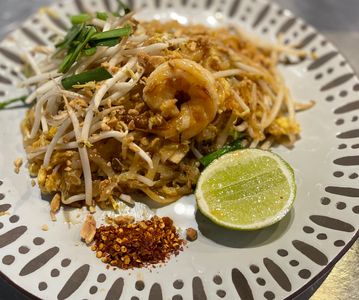 Pad Thai
Rice noodles, sweet & sour sauce, shrimp, garlic chive, bean sprout, spiced tofu, peanuts, chili ake, lime
$19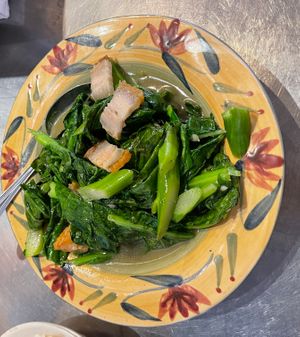 Chinese Broccoli
🥬 Stir fry Chinese broccoli, crispy house cured pork belly or tofu, jasmine rice
$16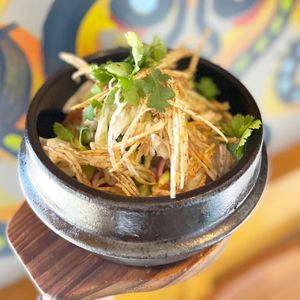 Crispy Coco
🥬 Crispy rice, coconut cream, serrano, cilantro, cucumber, red onion, silken tofu, taro crisps
$15
Add Crab + $6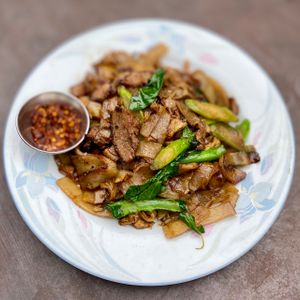 Pad See Ew
🥬Flat rice noodles, Chinese broccoli, sweet soy, & egg. Choice of pork or tofu
$16
Drinks
Booze-Free
Thai Tea
Frescas
Topo Chico
Maine RootSodas
Cocktails
The "OG"
Old Forrester Rye, Greenbar Distillery Ginger Cordial, mint syrup, lemongrass lemonade
—
Thai Kun TKO
Crusoe Organic Spiced Rum, Paula's Texas Orange, turmeric syrup, pineapple & lemon
—
Rox Colada
Mango Rum, scratch made pina colada mix
Pink Sands Rita
Pineapple and Blackberry infused Azuna Blanco Tequila, thai chili infused lime juice
Lemongrass Lemonade
Waterloo No. 9 Gin, lemongrass syrup, fresh lemon, topo chico
The 'Flirt'
Fidora Prosecco, house made Thai-Basil Ginger syrup infused with fresh lime, splash of Topo Chico
TK Old Fashioned
Thai Kun Bitters, Orange peel, sugar, choice of
Still Austin Bourbon, Mestizo Mezcal, or Suntory Toki Japanese Whiskey
Adult Thai Tea
you know it , you love it- Titos, Thai Tea, cream
Wines
Our boutique list features natural, organic, & biodynamic wines.
In essence- no additives, mostly vegan, using native yeasts, with deference to the land, ecosystem, and grapes.
Fidora Prosecco Italy 12/46
Bright, elegant, with golden apples, and white flowers
Christina Gruner Veltliner 2020 Carnuntum, Austria 13/52
Bright and Vivacious, this crisp white gives hints of green apple, tangerine, and white pepper
Oro Bello Chardonnay 2019 California. 12/46
Creamy tropical fruit, meyer lemon, toasted oak finish
Ermitage Pic St Loup Rose 2020 Languedoc, France 14/56
This aromatic & espressive rose speaks in dreams of the ancient marine soil that defines it. Notes of peach, pomegranate, and melon with amazing structure and balance.
Akutain Cosecha Tempranillo 2019 Rioja, Spain 14/56
Youthful & precocious, the dusty hills & red clay soils blessed this wine with morello cherry & a tart finish
JL Chave 'Mon Coeur' Côtes du Rhône 2019 Côtes du Rhône, France 14/56
Grenache, Syrah, & Mourvedre blend, with dark raspberries, plum, dashes of pepper, & herbs de provence. Just get it and thank us later
Frey Vineyard Cabernet Sauvignon 2019 Mendocino, California 14/56
Juicy & jammy with ripe dark plum, medium tannins, and a dash of all spice
Beers
D R A F T B E E R
(512) Trippel
(512) Pecan Porter
Adelbert's Philosophizer
ABW 'Pearl Snap"
Celis White
Indepenence Brewing Wild & Free
Pinthouse 'Electric Jellyfish'
Sapporo Lager
B O T T L E D B E E R
Chang
Singha
Kirin