Thank you for thinking of Thai-Kun Rock Rose for your next event!
Please email amy@eskaustin.com
for all private dining inquiries.
If looking for a reservation we are currently walk-in only. Please contact the restaurant at 512-394-5550 in advance and we will try our best to accommodate. Thank you.
PDR Package
The Thai Kun Private Dining package features items from across our dinner menu: appetizers, traditional Issan region dishes, and shareable dishes. The items offered provide the full culinary experience: spicy and not-spicy fare; proteins, vegetables, noodles, and rice; traditional dishes, Thai Kun favorites, and more approachable Thai cuisine.
1st course: Taro Crisps, Moo Satay, Octopus Skewers, Chicken Skins, Thai Kun Chicken Nuggets, Chicken Wings, Fish Fritter (pick three)
2nd course: Chinese Broccoli (can be vegetarian) Chinese Eggplant (can be vegetarian) Crab Rice, Pad Thai, Beef Panang Curry (spicy) Roasted Chicken (pick three)
3rd course: Ribeye, Whole Fish (pick one)
$35 per Person
Includes Non Alcoholic Beverages
24 hour notice needed
Options
Alcoholic beverages available a la carte

Add dessert for $5 per person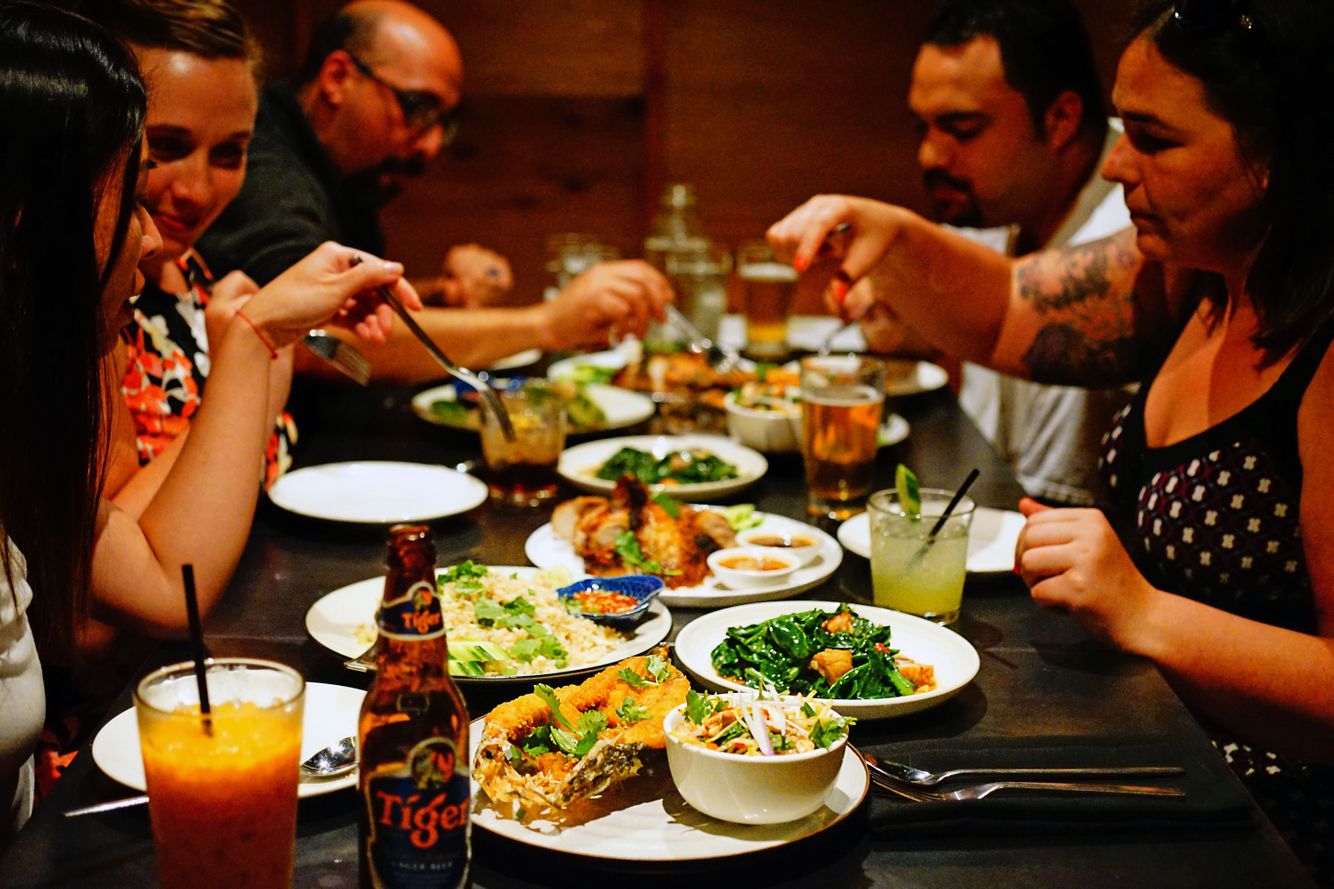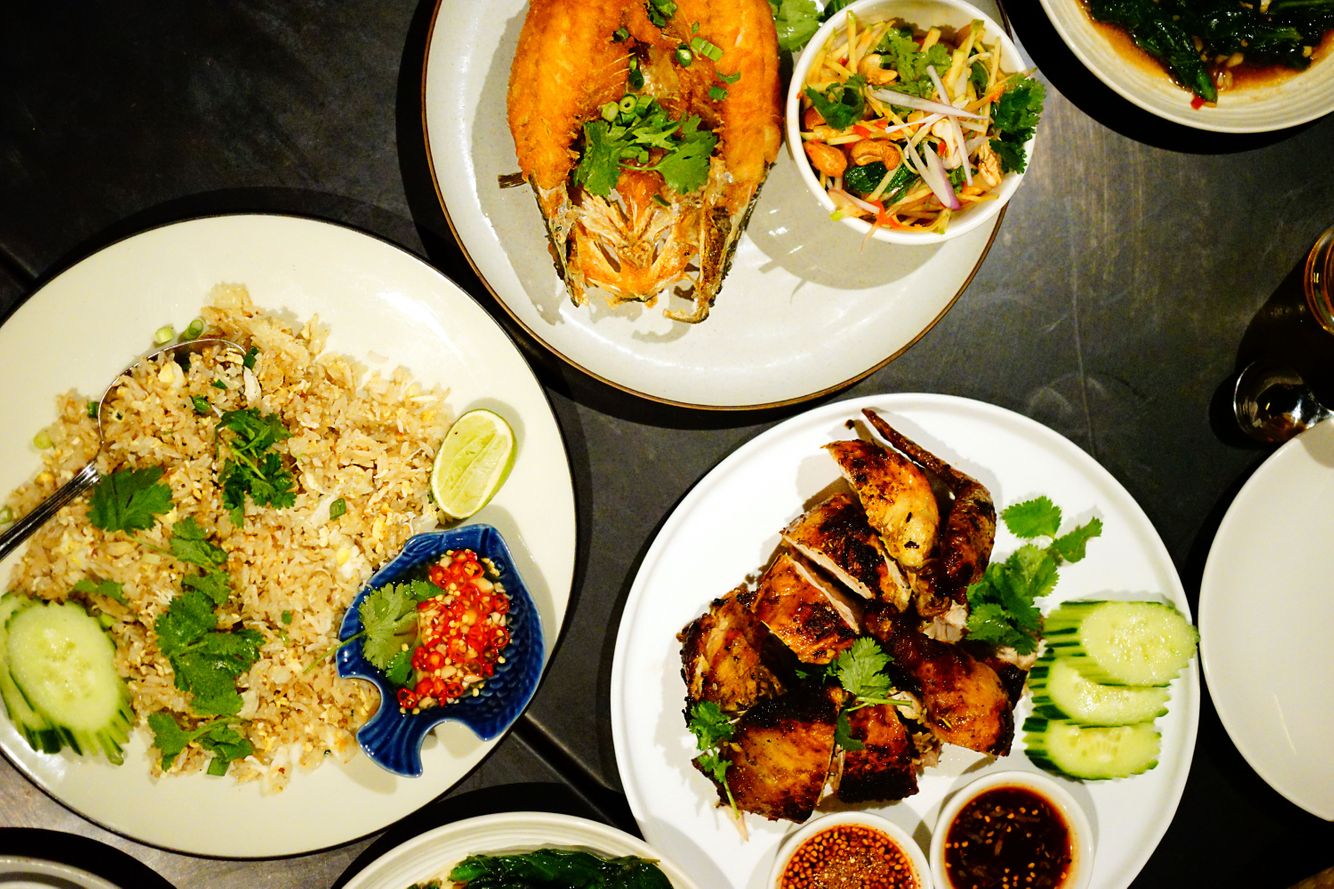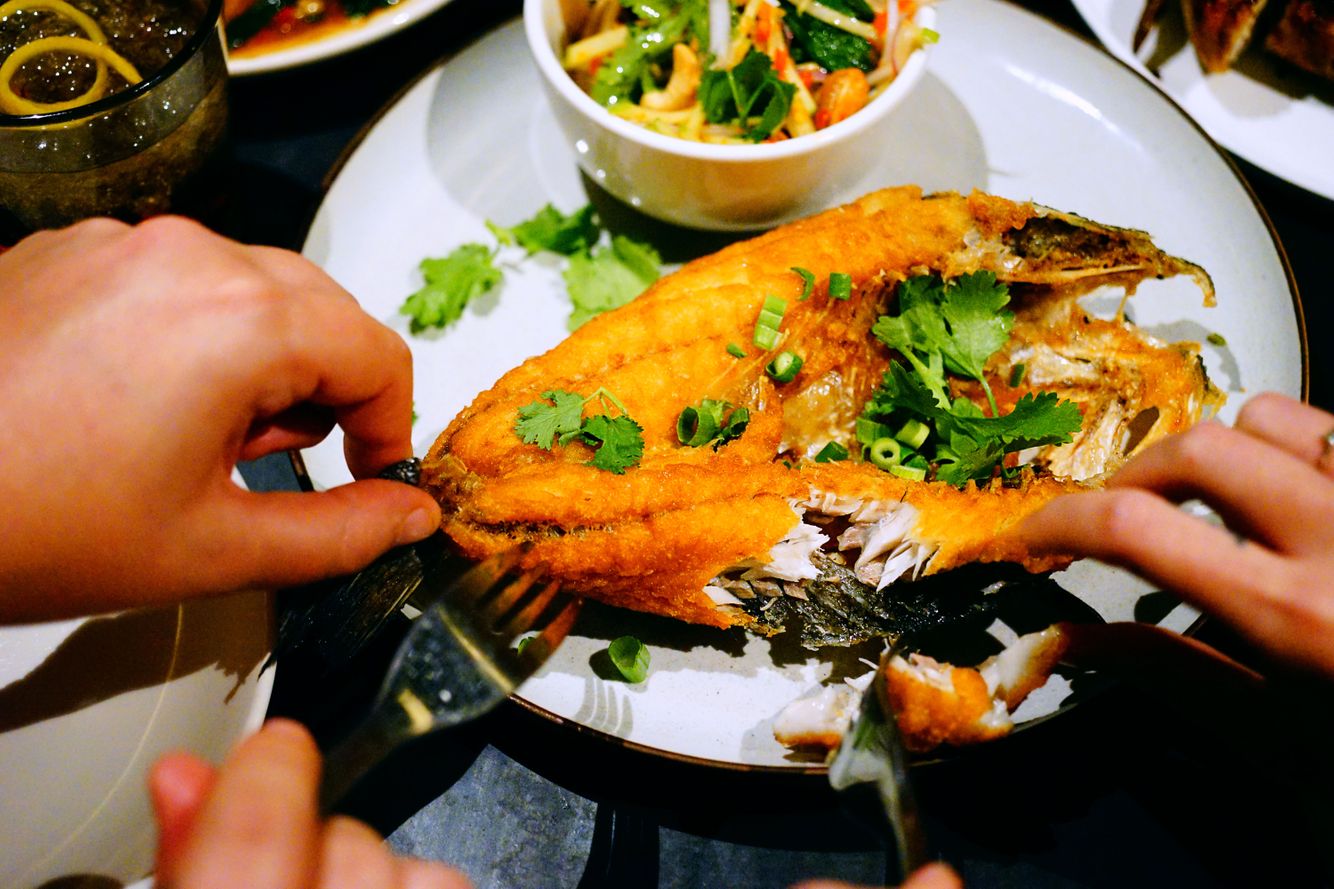 Where is Thai-Kun located?
Thai-Kun is located on Rock Rose Avenue (Suite 100), the Domain's newest entertainment district, located off Esperanza Crossing between Domain Drive and Alterra Parkway.
Where can I park?
There are complimentary parking garages located within 250 feet of the restaurant. Click here to view a map of the Rock Rose parking map.
Are there any room fee or guest minimums to book the PDR?
No, there are no room fees or minimums for parties of 10 or more to reserve the space. No deposits are required for the PDR reservation, but we do hold a credit card number to confirm your reservation. If you were to cancel within 48 hours of your reservation we do charge a ___ cancellation fee.
How do I confirm my PDR reservation?
A final meal selection and a guaranteed minimum guest count will be required 48 hours prior to your event.
What does family style dining mean?
Family style dining meals are served on plates or bowls and are meant to be shared by the whole party. All guests enjoy all the dishes on the menu, and we are able to add or substitute menu items according to specific requests or dietary restrictions.
Can I book a large party reservation in the main dining room?
Yes, we can accommodate parties of up to 20 guests in the main dining room of the restaurant at one long table, or outside on our patio. We do pair all parties of 8 or more with one of our family style menus, and we request a credit card charged with a $50 deposit to confirm the reservation. Thai-Kun cannot refund the deposit if 48 hour notice is not given. Reservations times are based on availability and final count. A final menu selection and guaranteed minimum guest count will be required 48 hours prior to your event. The final will reflect at least the guaranteed minimum guest count.
To book your next event please contact catering@eskaustin.com