DINING ROOM OPEN
(512) 394-5550
Please note we are Walk-in only, we are not accepting reservations at this time.
HOURS
Mon-Thur: 11am- 9pm
Fri-Sat : 11am-10pm
Sun : 12-9pm
Menu
We are now offering the full menu all day and night!!
🥬 = vegetarian or vegan options 🌶 = spicy
Appetizers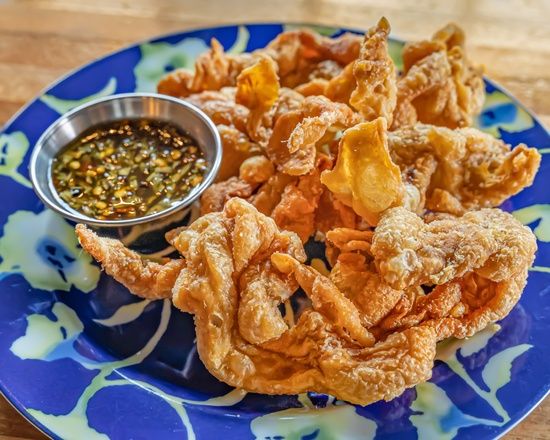 Chicken Skins (Limited Availability)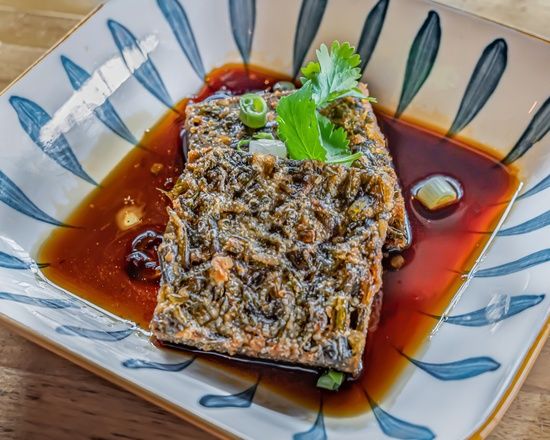 Chive Cake
🥬 Steamed and fried garlic chive cake with serrano soy nam jim
$10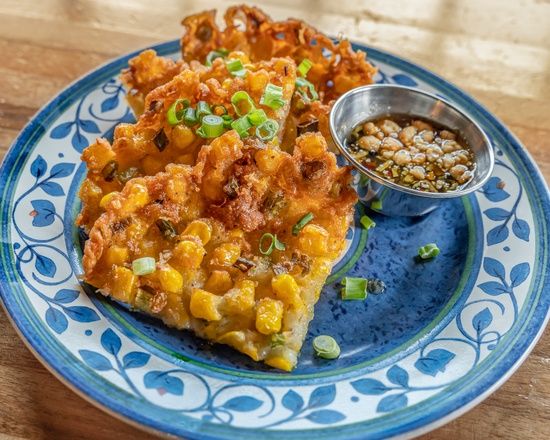 Corn Fritter
🥬 Crispy house-made corn fritters topped with crushed peanuts, served with boom sauce $8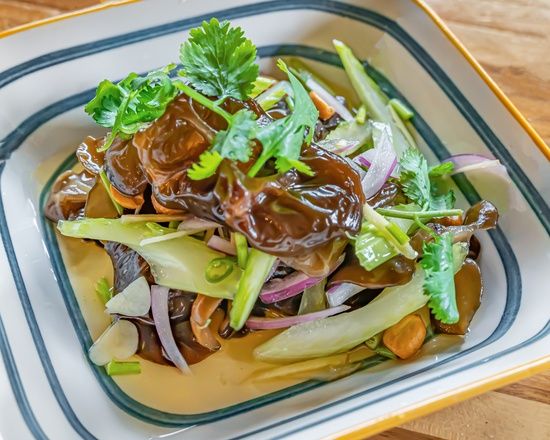 Mushroom Salad
🥬Yum spicy wood ear mushroom salad with peanuts $12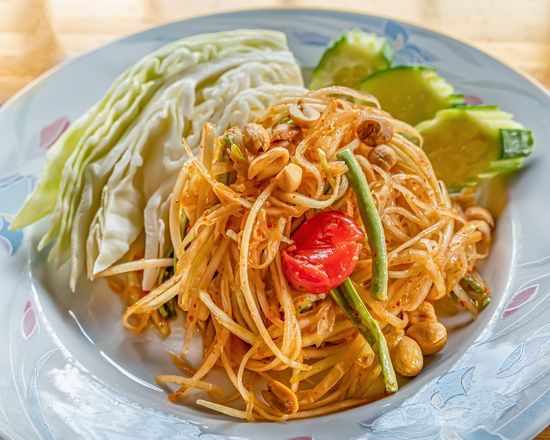 Papaya
🌶 Green papaya, thai chili, green bean, peanuts, grape tomato
$10 add sticky rice $3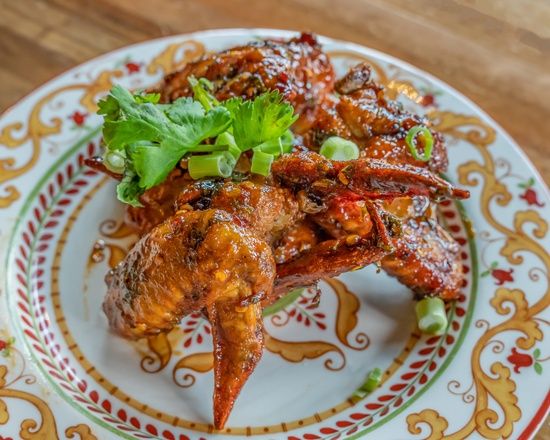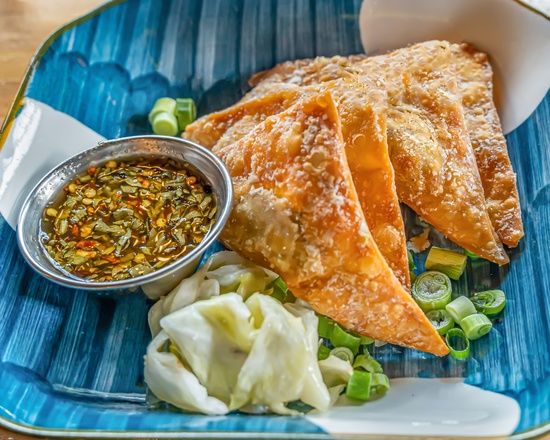 Wontons
Fried pork wontons, pickled cabbage, boom sauce
$8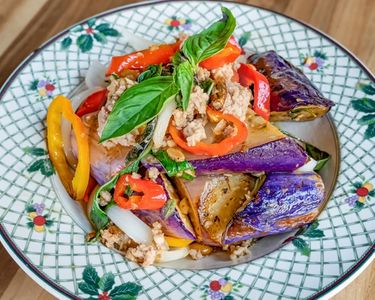 Pad Ma Khea (Eggplant)
🥬 Stir-fried Chinese eggplant, peppers, onions, thai basil, garlic, choice of ground pork or fried tofu, with jasmine rice $17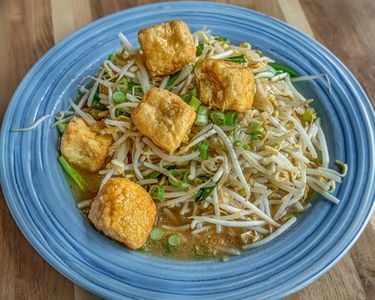 Pad Tua Hgok (Bean Sprouts)
🥬Wok seared beansprouts, garlic, thai chili, garlic chives, oyster sauce, choice of house-cured bacon or fried tofu, with jasmine rice $16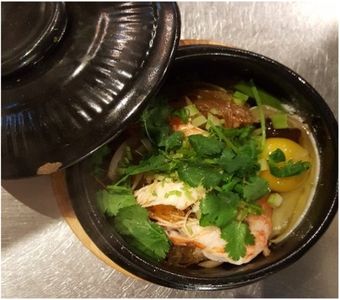 Clay Pot
🥬 Bean thread noodles cooked in a clay pot, prawns, bacon, egg, yellow onion, shiitake mushrooms, celery $21 - available dine-in only.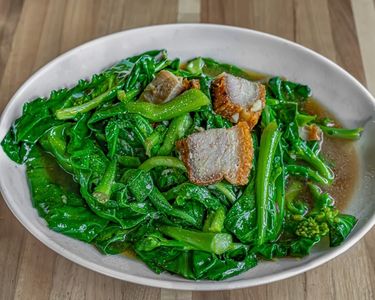 Chinese Broccoli
🥬 Stir fry Chinese broccoli, crispy house cured pork belly or tofu, jasmine rice
$17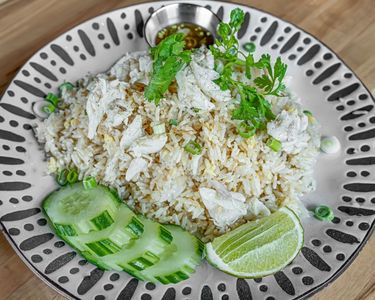 Crab Rice
Crab fried rice, egg, cucumber, cilantro, green onion, nam phrik nam plaa
$22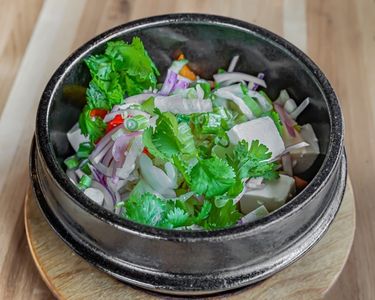 Crispy Coco
🥬 Crispy rice, coconut cream, serrano, cilantro, pickled cucumber, red onion & pickled cabbage with silken tofu.
$16
Add Crab + $6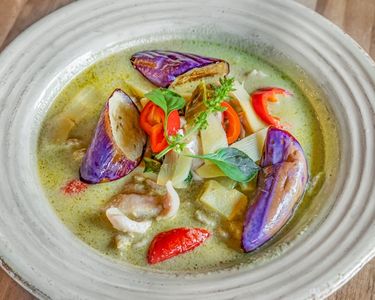 Green Curry
🥬 House made green curry, chinese eggplant, red bell pepper, bamboo shoots, choice of chicken thigh or silken tofu, jasmine rice
$17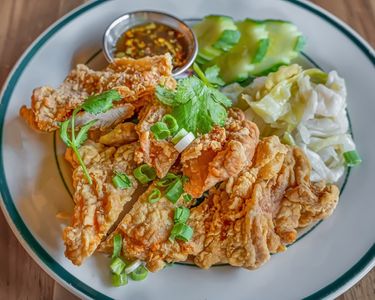 Thai Kun Fried Chicken
Our Signature Fried chicken thighs, cucumber, boom sauce, jasmine rice
$18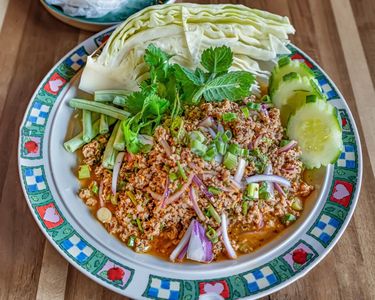 Larb
🌶 ground pork cooked with kaffir lime, thai chili, toasted rice powder, mint, red onion, served with cabbage, cucumber $18- add sticky rice $3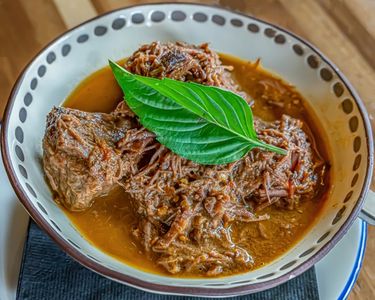 Panang
🌶 House made, slow roasted short rib panang curry, jasmine rice
$20
Add fried egg + $2.00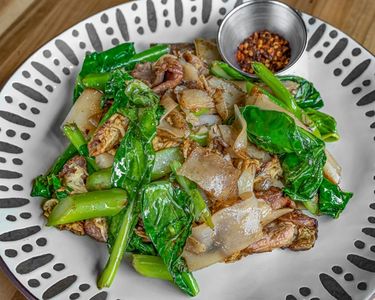 Pad See Ew
Flat rice noodles, Chinese broccoli, sweet soy, & egg. Choice of pork or tofu
$17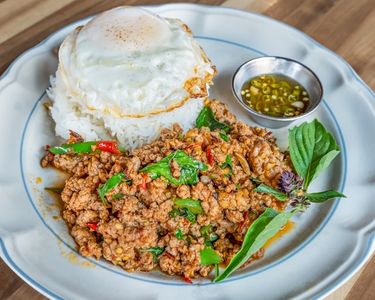 Pad Ka Prow
🌶 Ground pork, thai basil, serrano, garlic, thai chilis- with jasmine rice topped with a fried egg & nam phrik nam plaa
$17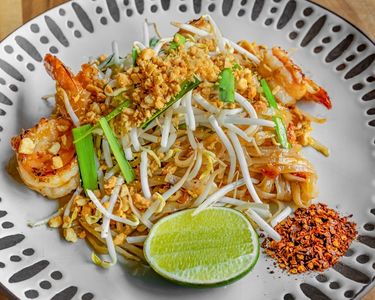 Pad Thai
Rice noodles, egg, sweet & sour sauce, garlic chive, bean sprouts, peanuts, chili flake, lime. Choice of Shrimp or Fried Tofu
$22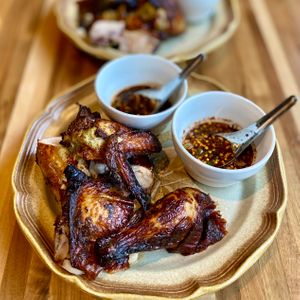 Roasted Chicken
Chef Thai's Roasted Half Chicken with boom sauce and nam jim jaew
(limited availability) $25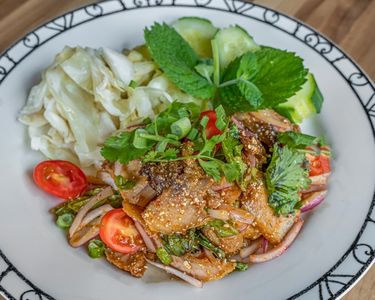 Waterfall Pork
🌶 Pork jowl, cherry tomato, mint. red onion, cilantro, & tiger cry, pickled cabbage, cucumbers $18 add sticky rice $3
Drinks
Booze-Free
Thai Tea
Frescas
Topo Chico
Maine RootSodas
Cocktails
The "OG"
Old Forrester Rye, Barrow's liqueur, mint syrup, lemongrass lemonade
—
Thai Kun 'TKO'
Island Getaway Organic Spiced Rum, Paula's Texas Orange, turmeric syrup, pineapple & lemon
—
Rox Colada
Mango Rum, scratch made pina colada mix
Pink Sands Rita
Pineapple and Blackberry infused Azuna Blanco Tequila, thai chili infused lime juice
Lemongrass Lemonade
Waterloo No. 9 Gin, lemongrass syrup, fresh lemon, topo chico
The 'Flirt'
Fidora Prosecco, house made Thai-Basil Ginger syrup infused with fresh lime, splash of Topo Chico
Pandan Mule
Pandan infused Austin Gin, Lemongrass lemonade, Maine Root Ginger Brew- A Thai Twist on a classic!
TK Old Fashioned
Thai Kun Bitters, Orange peel, sugar, choice of
Still Austin Bourbon, Mestizo Mezcal, or Suntory Toki Japanese Whiskey
Adult Thai Tea
you know it , you love it- Titos, Thai Tea, cream
Wines
Our boutique list features natural, organic, & biodynamic wines.
In essence- no additives, mostly vegan, using native yeasts, with deference to the land, ecosystem, and grapes.
Fidora Prosecco Italy 12/46
Bright, elegant, with golden apples, and white flowers
Oro Bello Chardonnay 2020 California 12/46
Creamy tropical fruit, meyer lemon, toasted oak finish
Christina Rose 2022 Austria 15/60
A succulent rose made from Zweigelt. Fresh watermelon, bright cherry, & a smooth, round finish.
Where's Linus Sauvignon Blanc 2021 Lake County, California 13/52
Fresh green mango, cool summer breeze finish, a little tart & refreshing. This minimalist approach is a mouthwatering exploration of Sauv Blanc.
Bow & Arrow Pinot Noir 2021 Willamette, Oregon 16/64
Playful, tart red fruits dance about in a field of mossy earth in this elegant Pinot Noir. Beautifully aromatic and fresh this wine was made to drink now!
Inkarri Malbec 2021 Lujan de Cuyo, Argentina 13/52
Ripe plum & currant on the nose, velvet texture, jammy, with the perfect amount of acid. A Malbec made for our pork dishes. Sip it, savor it, and then devour it!
Beers
D R A F T B E E R

(512) IPA
(512) Rambler ( Raspberry Blonde )
ABW 'Pearl Snap"
Celis White
Family Business Brewing 'Hamilton Pale'
Hi-Sign Brewing Shamus Red
Allstadt Brewing Peach Radler
Sapporo Lager
B O T T L E D B E E R
Chang
Singha
Kirin